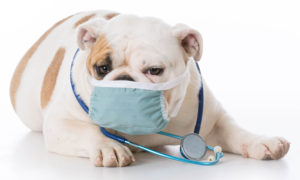 What is CIV?
The canine influenza virus, first identified in 2004, has  had reported outbreaks in 46 states.  It is a respiratory disease that is caused by a highly contagious airborne virus that often causes flu-like symptoms.   Dogs of any breed, age, and sex or health status are at risk of infection when exposed to the virus.  Both identified strains of Canine influenza, (H3N8 and H3N2) are not seasonal and can occur any time of year.
What are the symptoms of CIV?
 The canine influenza virus can cause mild to severe illness in dogs.   Symptoms of CIV include: persistent cough, runny nose, mild fever (104-105oF) lethargy, eye discharge, and reduced appetite. Some dogs can carry the virus and yet will show no signs of illness.  Most dogs recover within 2 to 3 weeks, however, some dogs may develop secondary bacterial infections which may lead to more severe illness and pneumonia. Anyone with concerns about their pet's health, or whose pet is showing signs of canine influenza, should contact their veterinarian.
How do dogs contract CIV?
80% of the dogs exposed to the virus will become infected. The canine influenza virus can be easily spread from an infected dog to other dogs through barking or coughing or through contact with contaminated environments, like dog parks, neighborhood sidewalks or store floors. CIV may also be transmitted through contact with people who have had direct contact with an infected dog. This virulent virus has been proven to live up to 48 hours outside its original host.
Is there a vaccine?
 Vaccines are available for both the H3N8 and H3N2 strains of the canine influenza virus. The CIV vaccination is recommended for dogs at risk of exposure because of increased interaction with other dogs. Just like human influenza immunizations, the vaccines may not completely prevent infection but may make it less likely and significantly reduces the severity and duration of the illness.
The vaccines (H3N8 and H3N) can be administered separately or by combining the two virus strains into a single vaccine.   Two doses of the vaccines are necessary to develop an effective immune response and need to be administered 2 weeks apart to provide adequate protection.
What you need to do?
Advise your Veterinarian that A Stay in the Country Pet Lodge requires immunization against both strains (H3N8 and H3N2) of the canine influenza virus.
Discuss the CIV vaccinations with your vet and make sure your pet is a good candidate for vaccination.
Schedule your vaccine visits so that adequate time is allowed to receive both the initial vaccination and the booster (which will be given 2 – 4 weeks apart).
What we are doing?
Starting Nov 1st, 2017, we require all canine visitors (boarding, daycare and grooming) to have both the first and second vaccination. We are continuing our cleaning, health and safety protocols and are educating our customers on the importance of vaccinating their dogs. Remember that you are protecting your pets and helping to protect other pets in our community.
To learn more, please visit these websites.
https://www.avma.org/KB/Resources/FAQs/Pages/Control-of-Canine-Influenza-in-Dogs.aspx
https://ahdc.vet.cornell.edu/news/civ.cfm
https://www.cdc.gov/healthypets/
Save
Save
Save
Save
Save
Save
Save
Save
Save
Save
Save
Save
Save
Save
Save
Save
Save
Save
Save
Save
Save
Save