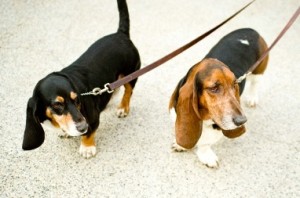 History Hounds Walking Tours are made possible through the partnership between the Valentine Richmond History Center and the Richmond SPCA. All dogs are welcome, as long as they have their shots up to date and get along well with others. Dogs must be on-leash for the tours, as well.
The History Hound Walking Tours get you involved and informed about Richmond's history. You'll see many types of architecture in the Bellevue neighborhood and wander through the historic Fan neighborhood, which was once farmland and home to early settlements. Check out Monument Avenue with it's the monuments to Robert E. Lee and the Matthew Fontaine Maury Monument. You'll also find monuments to J.E.B. Stuart and Jefferson Davis.
If you'd like to bring your pooch along on one of the history walks, be sure to bring along fresh water for him, and doggie waste bags, so that you can clean up after him. There is only a limited space available, so make a reservation if you'd like to attend. You'll learn about the history of the area even as your dog meets new friends.
Members of the Richmond SPCA will be along on the walks, to watch the dog-to-dog interaction, and they will also have water for dogs on the route. There will even be a dog who is looking for a new home, if you'd like adopt.
The price for the History Hounds Walking Tour is $10 or $5 for Valentine members.
Reservations: (804) 649-0711 x 301
For more info: www.richmondhistorycenter.com/schedule
The tour dates:
June 15 – History Hounds Explore Bellevue Walking Tour (10am-12 pm)
Meet at the corner of Bellevue and MacArthur avenues.
Sept. 21 – History Hounds Explore The Fan Walking Tour (10am-12pm)
Meet at 700 W. Franklin Street.
Oct. 19 – History Hounds Explore Monument Avenue Walking Tour (10am-12pm)
Meet at the Lee Monument at Allen and Monument avenues.