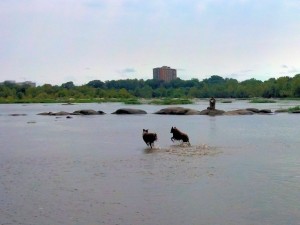 With sunbathing rocks, sandy beaches and trails, Texas Beach is a popular dog-walking destination, right along the James River. You may know the beach by its official name, North Bank Park. It is easily accessed via a long, scenic trail at the southern end of Texas Avenue, just five blocks east of Maymont's Hampton Street entrance.
Texas Beach is usually less crowded than Pony Pasture or Belle Isle, so there is lots of space for your dogs to exercise. They will love exploring the environment that feels like it must be miles away from the center of the Richmond.
North Bank Park is found at the end of Texas Avenue, easily accessed by the cul-de-sac on Kansas Ave. On the north, it is bordered by a residential community, and on the south is the James River. On the east side is Mount Calvary Cemetery and on the west, there is Maymont Park.
North Bank Park is bisected by the Norfolk Southern railroad tracks and the Kanahwa Canal. Four acres of park are found on the north side, on a terrace just east of Texas Avenue. If your dog gets into muddy areas, you can stop off at a salon that does pet grooming in Richmond, VA.
To the south of the railroad tracks and canal are 11 more acres of parkland. This includes an isolated strip with a floodplain, a forested wetland area and low upland areas that run along the James River shore. You'll also find small, quiet beach and levee areas, with rocky outcroppings, sand bars and small and medium sized islands.
North Bank Park has three structures, a parking lot for 35 vehicles and a kiosk with helpful information. Trash and recycling containers are available. At the end of the upper park, you'll find a steel and concrete pedestrian overpass crossing the railroad tracks. Its sculptural steps lead down to the riverfront part of the park.
On the east end, you will find pedestrian and mountain bike trails. They connect North Bank to Oregon Hill Park and their riverside trails and developing greenway.
Richmond Dogs in the Park
The James River Park System is a welcoming place for all dogs. Your dog may be your best trail buddy. As a responsible Richmond dog owner, please keep him on a leash. The trails are intended for everyone, and maintained at many times by volunteers, so you'll want to clean up after your pooch.