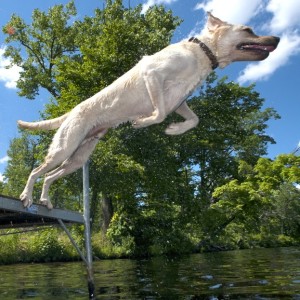 Every spring the River City is taken over by athletes and musicians for the Dominion Riverrock Festival. This celebration of outdoor living and sports welcomes participants and spectators alike, and would not be complete without  our furry friends. Like many events throughout Richmond, the Dominion Riverrock festival is dog-friendly. Both participants and visitors are welcome to bring their best friends along for the fun. There is even an event just for the four-legged athletes among them: the Subaru Ultimate Air Dogs competition.
This competition encourages pups, large and small, to jump off of a man-made dock. Set against Richmond's unique background of rushing rapids and an urban horizon on Brown's Island, the Air Dogs event is a pooch-friendly addition to a festival meant to promote the riverfront, hiking trails, and other outdoor sporting opportunities available right in the heart of the bustling city. Participants are usually members of the Ultimate Air Dogs dog jumping organization, but novices are also welcome to register and compete within their class.
The Ultimate Air Dogs competition is all about letting the fur fly, quite literally. Dogs are encouraged to run down the dock toward the pool and then jump off the end in a leap of glory. The distance is determined by official judges who measure from the end of the dog's tail to the end of the dock. Dogs leap in "splashes", with two leaps per splash. Their longest jump is counted as their score. Once all the leaps are made, the scores are categorized into divisions and ranked. The top scores in each division are awarded prizes.
Participants must register ahead of time and collect their participation packet before the event. Splashes are held May 17 through May 19. From the little 9 feet, 11 inches and under of the Novice leaps to the incredible 22 feet, 6 inches and up of the Ultimate leaps, this event is as much a thrill to watch as it is to participate in.
For more information on this fun weekend, check out http://www.dominionriverrock.com/.  We hope to see you and your dog there!