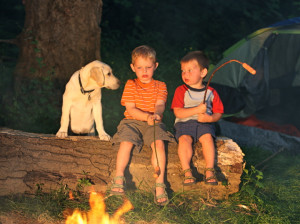 The state of Virginia is a great place to live and if you are a fan of camping, it's even better. The Richmond, VA area has many excellent spots for camping getaways, and especially for those of us who enjoy camping with their dogs.
You might read that some of the state parks prohibit pets, but that does not mean that you will be unable to find places to enjoy camping with your dog.
Here are a few places to try:
Holiday Lake State Park Campground – Appomattox, Va.
Riverside Camp – Lanexa, Va.
Williamsburg KOA – Williamsburg, Va.
American Heritage RV Park – Williamsburg, Va.
Christopher Run Campground – Mineral, Va.
Rappahannock River Campground – Richardsville, Va.
Aquia Pines Camp Resort – Stafford, Va.
Outdoor World Harbor View Campground – Colonial Beach, Va.
Bayside Marina – Colonial Beach, Va.
Each will have their own policies around pets, but in general they are happy to welcome pets along with their owners as guests.
The Needs of Camping Dogs
Even though most dogs do well with traveling, once they are familiar with it, remember to use a bit of caution when introducing a dog to the joys of camping. Whether your at a campground full of tents and RVs or out in the woodlands of the Richmond area, it is important to train your dog for the adventure first. They must understand any roadways or traffic hazards, they must be kept in control at all times – whether in the campgrounds or on the trails – and they must be trustworthy around strangers and other dogs.
Camping is a real joy, but if dogs have never been taken into such a situation it will require some of training in advance. Some of the things to keep in mind are:
Try to train them to respond to verbal commands to cease barking, to stop them from any further movement, to return to you or to the car or tent, and to stay at a "heel" distance for safety;
Campgrounds are always places with lots of food and lots of open fires. Teach a dog to avoid both of these temptations as they are tremendous risks;
Though you are in the woods or out in nature, it doesn't mean that you can safely drink the water. This applies to pets too. Giardia and other hazards can be an issue, so don't allow the dog to drink from just any puddle, pond, or body of water;
Poison ivy and other irritating plants, berries, and many other seemingly edible materials can be a real problem. Teach a dog to eat only foods that come from your hand and not to "harvest" any woodland or campground findings;
Watch for overexertion. Dogs are like kids and can easily push the boundaries of safety. If they are panting, seeming very fatigued, or showing signs of health trouble, pay serious attention to the matter; and
Don't allow the dog to sleep outside of the tent, RV, or human living quarters. This can lead to problems with other campers as well as with any wildlife in the area.
It is not rocket science to bring a pet camping, but it is easy to overlook some of the risks to their well-being. Make a point of preparing the dog and your family ahead of time. The Richmond locations listed above are ideally suited for dog owners looking to enjoy a vacation with their canine friend, but call ahead to get their pet policies.