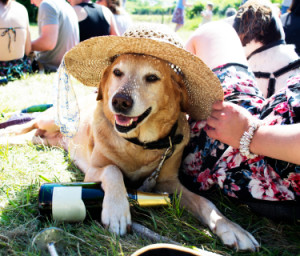 On Sunday, October 6, 2013, from noon to 6 p.m., you'll enjoy the Carytown Food and Wine Festival. Each ticket includes a wine tasting and souvenir wine glass. You may also receive a food item from any one of the participating Carytown restaurants.
Tickets are $20 in advance or $30 at the gate. You can purchase advance tickets safely online.
There are also $15 special Designated Driver tickets available in advance or at the gate. They include a complimentary food item and soft drinks.
The Carytown Food and Wine Festival welcomes all ages. Children aged 12 and under will be free when accompanied by a paid adult.
Bring your pooch along to this year's Food and Wine Festival. It can make the event more fun for your whole family.  Be sure that your dog is up-to-date on his shots, since he may meet lots of new friends at the festival.
Some vendors will have water for dogs, but it's always a good idea to bring some of your dog's water from home, so that he'll be more likely to drink.
Be sure that your pet has his ID tags on his collar, in case he wanders off while you're enjoying the festivities. This will make it easier to get him right back to you. Use a fitted collar and sturdy leash for your dog, too.
Your dog may not be used to large crowds like you'll find at the Carytown Food and Wine Festival. Take time to wander off now and then, and spend some time just with him and the family. Bring bags along, so you can properly clean up after your pooch.
The streets of Carytown will be alive with fun during the Food and Wine Festival, hailing the finer things of life. Your dog will enjoy the chance to meet new friends, so be sure that he has worn off his excess energy before you arrive.
For more information, check out http://www.carytownrva.com/fw.php .