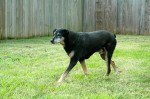 Adopting a pet from a local shelter can be a very rewarding experience, but what if you can't adopt? Volunteering can be quite satisfying. You'll meet people who care about animals as much as you do. And you'll meet animals who deserve a second chance.
You can help the dog or cat that may have been neglected before he became a resident a local Richmond shelter.
Volunteering at local shelters helps the animals and makes you feel good, all at the same time.  Research the various groups in your area to find a shelter with which you will be a good match. Perhaps you prefer to work with dogs, or maybe you would like to spend more time with cats. Each shelter has its own occupants who will hopefully find homes soon, but you can help them make the transition from shelter animal to beloved pet.
Visit local shelters in the Richmond area. Talk with the volunteers and staff and get a feel for the animals for which they care. If you have any questions about the facility, you can get answers from the staff and their volunteers.
The Richmond Animal League has animals that are just waiting to be adopted. They have some animals who are in the most need, and others that don't have as many medical issues, and just want a good home.
The Richmond SPCA has many events to benefit pets and owners in the area. In the week ending September 22, they found forever homes for 62 dogs and cats! They offer training classes and volunteer opportunities for animal lovers.
Friends United with the Richmond Shelter, also known as FURS, helps to care for homeless dogs, cats and other animals. They will be happy to work with you to find a pet that will be a blessing in your home or a volunteer position.
BARK is short for Bandit's Adoption and Rescue of K-9's. They rescue abandoned and orphaned pets and adoptable dogs from local animal shelters around the Richmond area. They take care of vaccinations, spay and neuter services and then find happy, forever homes. BARK placed 560 dogs in loving, forever homes in 2012.
The Henrico Humane Society (HHS) was founded in 1991 to help homeless animals in the Richmond area. Volunteers run the entire shelter. They don't have any staff members who are paid. HHS brings in strays found in the area, rescues animals from other shelters and takes in pets that owners must surrender when they cannot care for them any longer. Most pets live in foster homes until a permanent, loving home is found for them. This is a good place to start if you are interested in foresting a pet.
Even if you can only volunteer once a month, please give one of these great organizations your time. You will be rewarded tenfold for your efforts!