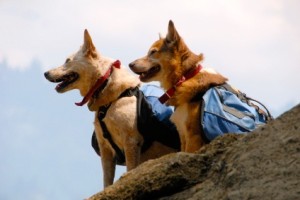 The fall is a fantastic time to enjoy the great outdoors. There are plenty of wonderful places around the Richmond area to hike with your dogs. For some local  places to hike, try everytrail.com.
When planning to bring your dog along on your hike, keep these tips in mind so both you and your dog remain safe.  Enjoy!
Avoid using extending leashes when walking your dog in wooded areas. These leashes can become caught in the brush and you may end up spending more time untangling the leash than you will enjoying your hike.
Check the pet policy for the area you intend to hike to see if dogs are required to be kept on-leash or not. If dogs are allowed off-leash, be sure that your dog is properly trained to respond to your commands before you consider releasing him to wander on his own.
Be courteous to other hikers – rein in your dog when you encounter other hikers to keep him from jumping up. Some people are afraid of dogs and, in his enthusiasm, your dog could accidentally knock someone over.
Always be sure your dog has the proper ID before you take him outside. If your dog should happen to get lost, a tag on his collar should provide whoever finds him with the information needed to contact you.
Make sure your dog's vaccinations and flea/tick prevention are up to date before taking him outside.
After your hike, always check your pet for blurs, scratches, sore paw pads and ticks.
Bring enough water for both you and your dog on the hike – it is important to stay hydrated and it is generally unwise to let your dog drink from ponds and streams because they could be contaminated.
During hunting season, make sure you and your pet are wearing blaze orange vests or wait to hike on Sundays.
If you are a Richmond dog owner looking to extend the fun with an overnight stay, checkout Doggie Camping Fun around Richmond.